stephanie.chen@scottsdalecc.edu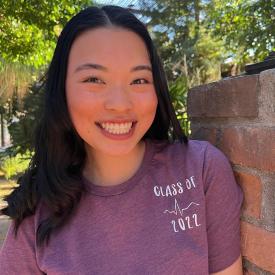 Biography
Bio
Originally from the Bay Area, California, I received my B.S. in Kinesiology, Exercise Science from California State University Long Beach in 2019 and my M.S. in Clinical Exercise Physiology from ASU in 2022. I am a certified clinical exercise physiologist through ACSM.
I currently work as a clinical exercise physiologist at Banner University Medical Center - Phoenix in cardiac rehab. I work in both the outpatient and inpatient setting with patients with chronic heart disease. In addition, I run CPET's (VO2max tests) on chronically ill and diseased patients.
My past experience includes:
Working as a PT aide in several outpatient orthopedic and neurology clinics
Serving as an undergraduate and graduate TA teaching anatomy and physiology and exercise physiology labs
Working at Mayo Clinic's outpatient cardiac rehab
Helping run the LA Kings physiological testing during their 2019 training camp
Some of my hobbies include working out, cooking, watching Warriors basketball games, and traveling!
Courses
Spring 2023
Intro to Exercise Testing
Advanced Exercise Testing