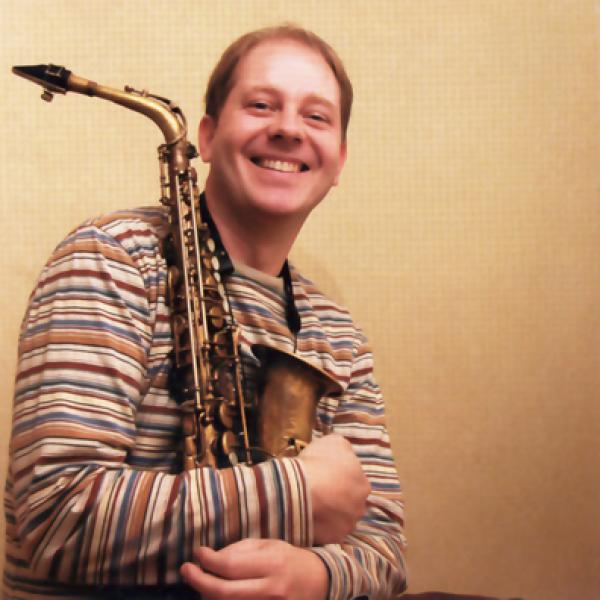 Office Hours
Monday: 11am - 12pm
Tuesday: 11am - 12pm
Wednesday: 11am - 12pm
Thursday: By appointment only
Friday: 11am - 12pm
Biography
Bio
Saxophonist/Composer Eric Rasmussen relocated to the Phoenix area in the summer of 2007. The California native spent the last ten years playing and teaching in New York City where he was a staple of the jazz community, performing regularly on the East Coast as well as throughout Europe. While in New York, he performed regularly with some of the most respected names in jazz and was the Director of Jazz Studies at the Center for Preparatory Studies in Music at Queens College.
Earning his Masters of Music degree in Jazz Performance at the New England Conservatory in Boston, Eric studied with Jerry Bergonzi, George Garzone, Danilo Perez and Paul Bley. He received his BFA in Jazz Performance from California Institute of the Arts in Los Angeles, where he studied with Charlie Haden, Joe Labarbera and Roscoe Mitchell. Eric leads the groups Guaranteed Swahili and the Eric Rasmussen Tristano Band, both of which have toured the United States on numerous occasions. Eric is an experienced educator and guest clinician with clinics at the University of Iowa, California Institute of the Arts, Wellesley College, Saddleback College, Arizona State University, Hartnell College, Portsmouth Music and Arts Center, as well as numerous high schools throughout the country and in the Phoenix area.
With his own groups, Eric has recorded for internationally acclaimed jazz labels Steeplechase and Fresh Sound Records. As a sideman, Eric has also recorded with Paul Bley, Danilo Perez, Billy Hart, Christophe Schweizer and the Jazz Composers Alliance Saxophone Quartet. He has played at some of the most prestigious venues in the Country including the Kennedy Center and a 2007 performance with the Lee Konitz Big Band as part of the JVC Jazz Festival at Carnegie Hall. Eric has served as adjunct faculty for Mesa Community College, Paradise Valley Community College and was the Music Director for Young Sounds of Arizona from 2010 – 2011. Currently, Eric is the Director of Instrumental Music at Scottsdale Community College.
Courses
Fall 2023
American Jazz & Popular Music
Private Instruction: Saxophone
Priv Instruc: Pop Music Voice
Private Instruction: Saxophone
Priv Instruc: Pop Music Voice
Priv Instruc: Pop Music Voice
Private Instruction: Saxophone